SEE HOME PAGE SCROLL FOR LATEST NEWS

6th November 2011 Cosford Halt Ticket Office For Sale

17th October 2011 Facelift for Cosford Halt

15th September 2011 A few photo's from Dave Stinson

6th September 2011 Airbus A330-200 Tanker
2nd September 2011 RAF Cosford 'Plan B'

22nd August 2011 Tribute to Fl Lt Jon Egging Red Arrows' Pilot

18th August 2011 Letter from Shirley Lowe

17th August 2011 New ATC Surveillance

15th August 2011 Dave's Funeral Service

15th August 2011 Dave Lowe's Funeral
12th August 2011 The Last One!!
30th March 1993 UFOs Over Cosford
10th August 2011 Letter to Shirley Lowe From the 40th Entry
Messages of Condolence for David Lowe
(click icon below to view messages.)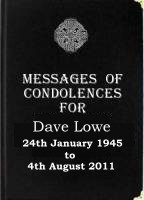 E-mail Steve if you want to add a message to the Book of Condolences for Dave.

4th August 2011 Tragic news of Dave Lowe

20th July 2011 40-52 THE DEAL
20th July 2011 The Fate of RAF Cosford:
As a result of the announcement of troop reduction in the House of Commons on 18 Jul the small print announced that the preferred Site for the Rationalisation of all Ground Training for the Armed Forces would be the Royal Air Force Lyneham Site, which is subject to operational transfer to RAF Brize Norton. It is envisaged if this goes ahead that RAF Cosford will be occupied by Army Boots......

30th June 2011 A bit about Fulton Block

20th June 2011 Pete Riches pitched up 2 Sqdn

20th June 2011 Dave Coomber remembers John Atkins

5th June 2011 No.2 Wing Hatband

3rd June 2011 Bertie Gray pitches up 4 Sqdn

19th May 2011 Eulogy to Air Commodore Chris Green

18th May 2011 RAF Tribute Air Commodore Green

17th May 2011 A SAD DAY FOR RAF COSFORD

13th May 2011 John Harris pitched Up 1 Sqdn

11th May 2011 Latest Landmark Photo's

16th March 2011 Boyd K . Lichfield "The full story"
15th March 2011 A Word of Thanks from Boyd Lichfield

5th March 2011 Laurie Cole pitched up

28th Feb 2011 Boyd K. Lichfield "a short history"

5th January 2011 In The Begining

3rd January 2011 Winter 2010