GOODBYE RAF COSFORD!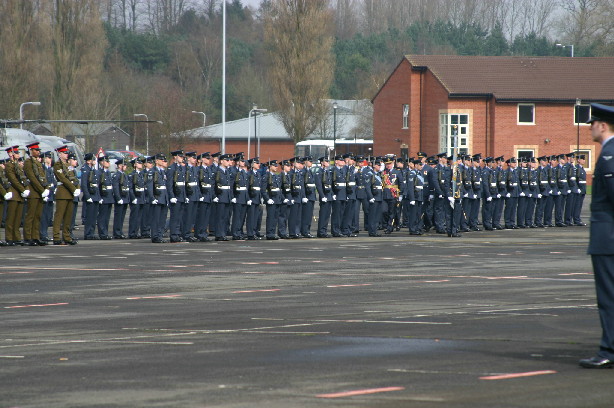 MORE PHOTO'S
Yes, it's true, RAF Cosford no long registers on the richter scale. It now has the oh-be-joyful name of DCAE Cosford (Defence College of Aeronautical Engineering). The new signs went up a few days ago.

Since I've been there, a few years, I've never seen the Parade Ground clear of cars. Even during the Hols, there's always been a few (wrecks?) cluttering up the area. But during several days of mad-panic (everybody: Duck!), the parade ground was cleared and swept (by contractors, not students). Practice went on for a longish while in good weather (cool but bright). Rumour had it that we were to get a fly-past and be joined on the parade ground by three helicopters (Lynx, Chinook & Merlin). The fun had by all on the day must have had someone tearing out what little hair remained. It positively heaved it down (Il Pleut ne plus ultra) early on. And it was dark, dank, misty and quite like some familiar times we all spent. The airfield was quite etherial as the Chinook landed.

The Merlin didn't make it. It seems that one crashed (the 3 in the back walked away, but the pilots were injured), so the whole fleet was grounded. The fly-past, by three Harriers, was bang-on time as the Band struck up. Then the sun came out and we all sighed with relief and they got on with parading as specified in Orders.

So there's a mob of sailors (in full rig with white gaiters), a rook of Army (details unspecified), and a couple of flights of our lot marching up and down in the usual and familiar manner. It was fun to see the usual errors being made. There were even two RAF Warrant Officers!

The Band (RAF Central, as far as I could see), were at the back near the Chinook. Rifles for all, Swords for Officers on parade and a good time was had by nearly all. The whole thing was observed by the gathering of Guests on the chairs provided and a lot of the staff standing round in obscure places. There were several photographers and a film crew in attendance, with cables snaking everwhere.

I have more photos if anyone wants to see the Parade Ground (scene of many a BE debacle) and I'll send them on a CD. 73 - Dave Coomber 40th AWM.
STOP PRESS - 1st April 2004
GOODBYE RAF COSFORD!

01 April 2004 RAF Cosford becomes the Defence College of Aeronauticial Engineering (DCAE) so doing away with the RAF Cosford Station title which has been there since 1939.

All signs on the main gate and elsewhere will be changed to reflect this new title. This is all part of the Defence Training Review which has now put several of these Defence Colleges in place. The objective is to harmonise the 3 services training and where possible provide joint training.

The Defence College for Telecommunications and IT is located at what was Army Blandford.

To us Ex-Boys, RAF Cosford remains the place name whatever they decide to call it!